A crop insurance loss must be reported within 72 hours of initial discovery or damage, but not later than 15 days after the end of the insurance period. The end of the insurance period is defined as the earliest of the following:
Total destruction of the crop
Harvest of the unit
Final adjustment of a loss on a unit
Calendar date in the Crop Provisions for the end of the insurance period
Abandonment of the crop on the unit
As otherwise specified in the Crop Provisions

The Claim for Indemnity must be submitted no later than 60 days after the end of the insurance period.
Call Your Agent
When damage occurs
When you feel there could be a loss
Before you replant
Before you do anything other than harvest the crop
Production Reporting
For production reporting, you must:
Report accurate total production by unit.
Keep production separate by unit.
Not mix storage of production from different units (unless federal guidelines are followed).
Sign reporting form and Privacy Act statement.
Acreage Reporting
Report correct acres by crop and practice. Verify with FSA certification documents.
Report the correct planting date on the day that the unit was finished being planted.
Report accurate percent of share on each unit.
Report all acres. Be sure to include prevented planting, uninsurable and late planted.
Sign reporting form and Privacy Act statement, as applicable.
Production Record Keeping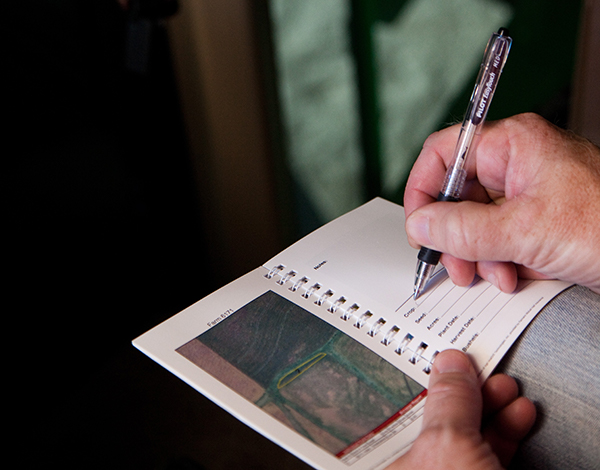 You must keep accurate and detailed records of your production. They are used for loss and yield history purposes. You should track your production with the follow record keeping practices:
Hard records (weight tickets, feed records, etc.)
Soft records (weight-wagon slips, yield monitors)
Bin measurements, if applicable. Contact your agent for more information.
Field appraisal, if you raise livestock.
Pivot Corners
Follow federal guidelines for optional units
All corners need to be broken out per pivot.
Clear and discernible break from irrigated unit.
Break may occur up until the acreage reporting date (discing, cultivating, mowing, etc. does qualify).
Keep production separate.
Contact your agent prior to the production reporting date to see if you qualify for optional units.

Best Options
Plant field to a different crop.

Plant the same crop in a different row direction.

Include corners with the irrigated unit.
Prevented Planting
Prevented planting claims must be submitted within 72 hours of the final plant date for the crop.
Once an acreage report is submitted, there can be no revisions to change the prevented planting acres to a different crop.
Contact your agent for more information.
Silage
You cannot chop over 50% of your corn field for silage, until an adjuster appraises it, regardless of whether or not there is a loss.
In a no loss situation, if you chop less than 50%, you can convert the remaining yield to grain on APH or YP only.
For RP, crops must be appraised or strips left to harvest or chop for silage (potential for revenue loss).
NRCS Cover Crop Termination Guidelines
Background
To ensure that USDA policies are coordinated and up to date with evolving cover crop practices, the administrators of the Natural Resources Conservation Service (NRCS), Risk Management Agency (RMA) and Farm Service Agency (FSA) organized an interagency workgroup to develop consistent, simple and flexible policy across the three agencies. National and local experts, along with multiple stakeholders, were involved in the process. Research literature, plant growth, soil hydrology models, and input from national/local experts in cover crop management provided the basis for developing cover crop termination guidelines to achieve their conservation benefits while minimizing risk of reducing yield to the following crop due to soil water use. These guidelines will be applicable to all USDA programs.
These guidelines only apply to non-irrigated cropland, including systems that contain a fallow period. The cover crops in irrigated cropping systems should be terminated based on the crop system and the conservation purpose, but before the planted crop emerges.