The new ECO+ policy add-on from Farmers Mutual Hail offers farm-level protection, even with an area loss. Combine it with your underlying RP, RP-HPE, YP, YDO, or APH policy and Enhanced Coverage Option (ECO) endorsement for more complete coverage with higher commodity prices.
Select the ECO+ endorsement with your ECO plan
Your ECO+ doesn't have to follow ECO selection, option to choose Revenue or Yield protection
Available in two bands of coverage: 86%-90% or 86%-95%
Coverage must be elected by the sales closing date for your underlying policy
ECO + coverage is available throughout the FMH writing area for corn and soybeans.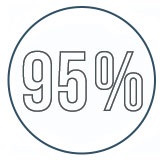 Coverage up to 95%
of expected crop value
Offers individual loss coverage on top of underlying plan
ARC or PLC participation
has no impact on eligibility
ECO+ Revenue Calculation Sample Calculations
MPCI Coverage: 75% Revenue Protection
Production to Count: 15,000 bushels
Coverage Band: 90% - 86%
Approved Yield Revenue: $64,000

Upper % of Coverage Band: 90%
MPCI Projected Price: $4.00
Coverage Spread: 4%
MPCI Harvest Price: $3.50
Acres: 80
Share: 100%
Approved Yield: 200 bu./acre

ECO Indemnity: $500


Determine the Total Limit of Insurance

75% x $4.00 Projected Price x 4% Coverage Spread x 200 APH x 80 acres x 100% Share = $1,920 Total Limit of Insurance

Determine the Harvest Revenue

15,000 Production to Count x $3.50 Harvest Price = $52,500 Harvest Revenue

Determine the Loss Percentage

90% – [52,500 Harvest Revenue/$64,000 Approved Yield Revenue] = 7.97% Loss Percentage
(Cannot be greater than the coverage band spread so 4% is used instead)

Determine Payment Factor

4%/4% = 1.0000 Payment Factor

Calculate the ECO+ Indemnity

$1,920/acre - $500 ECO Indemnity = $1,420 ECO+ Payment

* This sample is for example purposes only. Contact an FMH agent for full details.