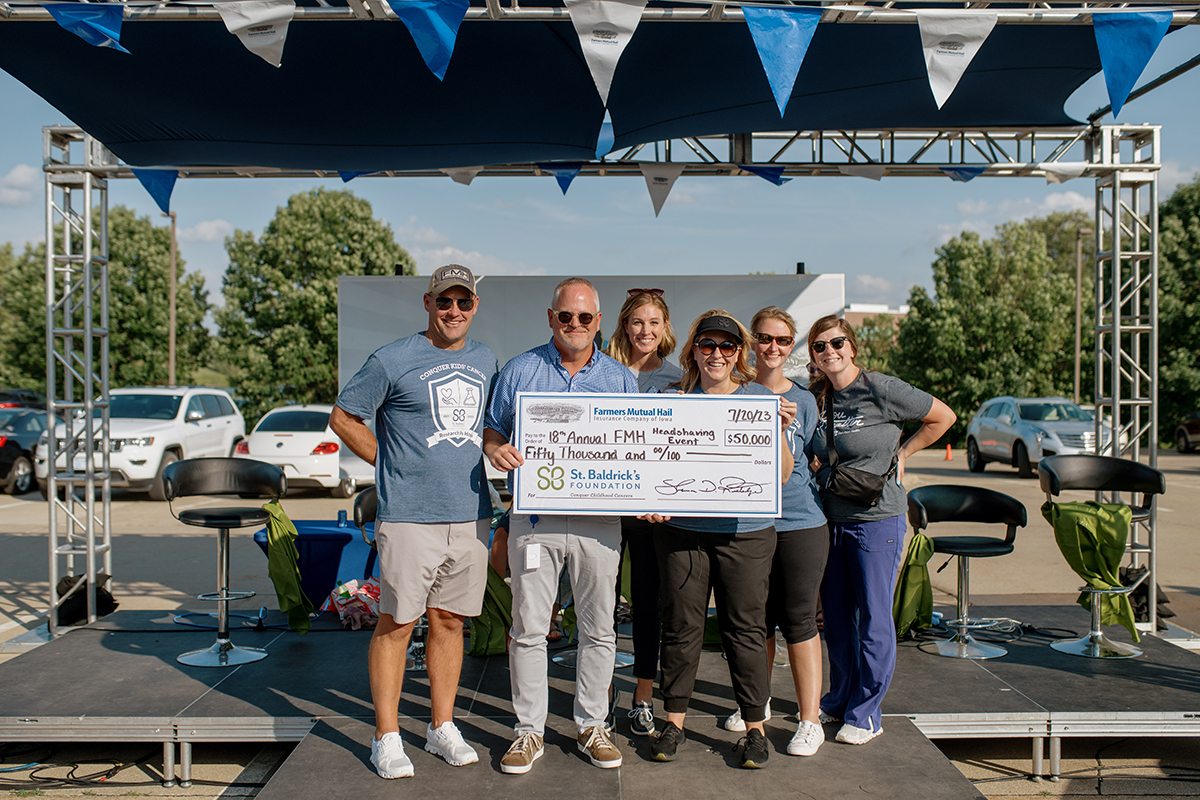 (West Des Moines, Iowa – August 1, 2023) – Fundraisers "braved the shave" to raise awareness for childhood cancer research at the 18th Annual St. Baldrick's Head-Shaving Event hosted by Farmers Mutual Hail Insurance Company of Iowa (FMH) on July 20. A portion of the funds raised at the event will support research grants at Blank Children's Hospital (BCH).
The event raised a total of $102,362 for the St. Baldrick's Foundation, an organization dedicated to supporting the most promising research to find cures for childhood cancers and give survivors long and healthy lives. Blank Children's Hospital is a St. Baldrick's Foundation grant recipient.
"Ensuring high-quality patient care for children is our mission at Blank Children's Hospital, and with the help of funds like those raised by Farmers Mutual Hail, this enables us to meet a critical need for children here in Central Iowa and across our state that are fighting cancer," said Wendy Woods-Swafford, MD, vice president and medical director for Blank Children's Hospital.
Farmers Mutual Hail made a corporate donation of $50,000 towards this year's total funds. "The St. Baldrick's Foundation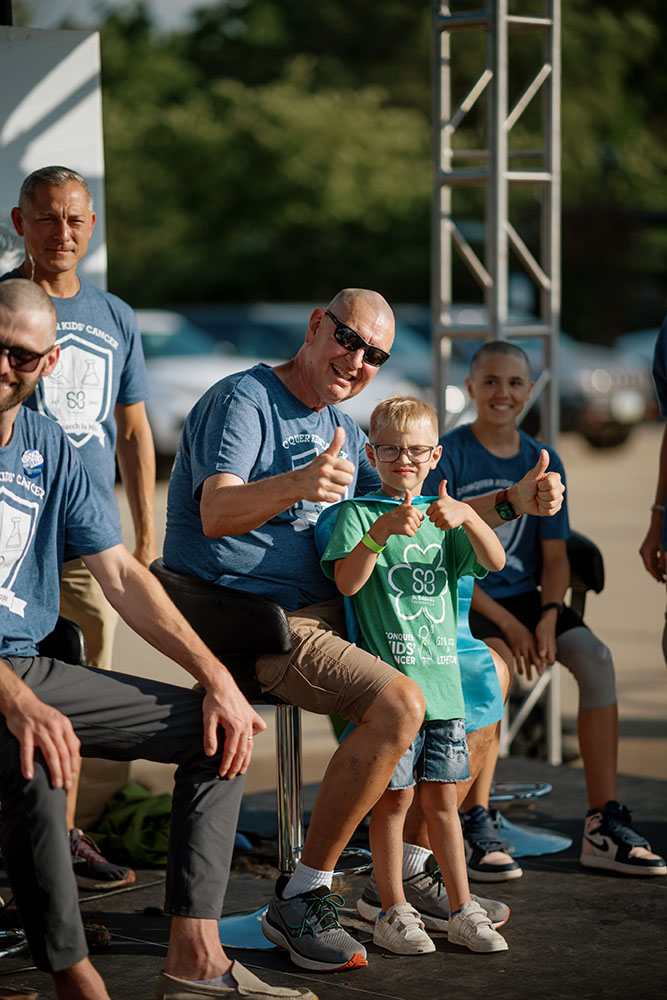 has helped change the lives of children fighting cancer around the world and right here in Iowa," said Pat Faga, FMH Chief Marketing Officer and executive sponsor of the St. Baldrick's event. "We're proud to have raised over $1.47 million for this organization throughout these past 18 years, and we look forward to continuing to support the Foundation in the future."
The event was open to friends and family of FMH employees, and featured a raffle, carnival games, dunk tank, and of course, the signature head-shaving activity where volunteers who raised funds shaved their heads in solidarity with children fighting cancer. Last year's special guest, 5-year-old Sage Young, who received treatment at BCH for Acute Lymphoblastic leukemia – Type B throughout last year, was on hand again to participate. As of October 2022, Sage is in remission.
Donations are still being accepted and can be made at www.fmh.com/st-baldricks or directly to the St. Baldrick's Foundation at www.stbaldricks.org.
Thank you to the event sponsors and supporters: Sunny's Son's Salon, Bow and Arrow Communications Inc, and Iowa League of Heroes; and to event emcees Lou Sipolt and Jackie Schmillen.
###
About Farmers Mutual Hail
Headquartered in West Des Moines, Iowa, FMH has served America's farmers since 1893 with a combination of financial strength, personal service, and Midwestern values. A leader in the crop insurance industry, the company has been managed by the same family for over 125 years and has a reputation of building lasting relationships that benefit their employees, business partners, and customers. FMH provides comprehensive risk management solutions, including private and federal crop insurance, reinsurance products and services, as well as brokered insurance products through its new company, Ag Brokerage Solutions™. Learn more at www.fmh.com.
About Blank Children's Hospital

Blank Children's Hospital is committed to family-centered healing, caring and teaching. With hundreds of doctors, nurses and staff who care for patients from before birth through adolescence, Blank Children's is a hospital unlike any other. The number of medical specialists, programs and services is constantly growing to improve care and meet the changing health needs of children and families. Blank Children's Hospital is a provider-based facility of Iowa Methodist Medical Center. www.unitypoint.
https://www.unitypoint.org/locations/unitypoint-health---blank-childrens-hospital