FMH has been awarded a Top Workplace USA honor in the third annual Top Workplaces USA Awards for 2023.
Previously recognized by The Des Moines Register as a 2022 Iowa Top Workplace, FMH ranks 36th out of the top 100 nationally in the 500-to-999-employee range.
Companies who won Top Workplaces recognition in states and cities across the United States were invited to be considered for national awards. FMH is one of only 1,200 companies to receive this national recognition.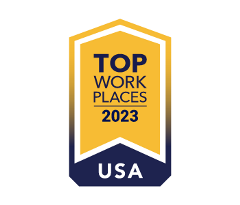 "While we recognize there is always room for improvement, we also believe that we're doing a lot of things right to create a great place to work and help our employees grow and succeed," said Debbie Ladehoff, FMH Senior Vice President, Human Resources.
The Iowa Top Workplaces list, which generally consists of fewer than 150 businesses across Iowa, is based solely on employee feedback gathered through a third-party survey administered by research partner Energage, LLC. The anonymous survey measures several aspects of employee engagement, including the percentage of employees who are motivated to give their best at work, committed to staying with their current organization, and would recommend their company.
FMH participates in the Top Workplaces survey every five years, most recently in the spring of 2022. FMH's overall engagement score of 72% puts the company well above the average engagement score of 62% for similar companies. FMH's scores have remained high through the years, as the company was also named an Iowa Top Workplace in 2013 and 2018.