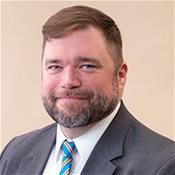 FMH has announced that Aaron Rutledge, Senior Vice President of Claims, has been promoted to Executive Vice President and Chief Operating Officer effective January 1, 2023. He succeeds Shannon Rutledge, who was promoted to President and Chief Executive Officer last year.
Rutledge is a graduate of William Penn University and joined FMH in 2002 as a Claims Analyst. He then worked as a Claims Field Supervisor in Iowa, Illinois and Missouri for nine years. In his 21 years at FMH, he has also worked in the Property and Casualty Department and in various leadership roles including Assistant Vice President and Compliance Manager in the Legal Department.
Among his other accomplishments, Rutledge earned his Farm Mutual Director Certification (FMDC) in 2016. He was appointed as a director to the Board in 2013 and named Assistant Secretary in 2022.
During his time leading the Claims Division, Rutledge was influential in integrating and growing FMH Precision Crop Insurance Solutions™, which enhances crop insurance with more accurate coverage and faster claims using precision ag data. Under his leadership, Rutledge increased Precision Claims adoption to allow for more efficient claims processes for FMH agents and policyholders.
"I'm pleased to have Aaron continue to serve FMH in this new leadership role. His capacity to understand how different areas of the business work, will no doubt add to his leadership strengths," said Shannon Rutledge. "His experience and perspective will continue to allow FMH to further develop its technology-focused processes to offer excellent and personal customer service."