Ron has led FMH since January 2011 and will remain in his role as Chairman of the company's Board of Directors, as well as continue serving on his current industry board seats.
"Under Ron's leadership, FMH has experienced unprecedented growth and innovation," said Executive Vice President and Chief Operating Officer Shannon Rutledge. "The company added a Property & Casualty division in 2011 and grew from a regional crop insurance provider to a national crop insurance provider after the acquisition of John Deere Insurance Company in 2015. With FMH Precision Crop Insurance Solutions™– developed during his tenure as president – FMH now leads the industry in enhancing crop insurance with more accurate coverage and faster claims using precision ag data."
Ron was born and raised in west-central Wisconsin before moving to Iowa as a teenager. One of his earliest FMH memories was when his father, Dave Rutledge, a Field & State Supervisor for the company at the time, experienced a heavy claims year for Wisconsin and "the living room floor was completely covered with piles of loss cards."
Ron attended Grandview College in Des Moines, Iowa, for two years where he earned his associate degree before transferring to Drake University where he earned a bachelor's degree in Computer Information Systems. He married his high school sweetheart, Tammy, in 1979. They have two daughters, Jenna and Kate, along with four grandchildren.
Always a "tech guy," Ron began his FMH career in 1981 as a programmer. When the first personal computers were purchased for the company in 1985, he set up the first local area network (LAN) the following year. Soon he was promoted from Assistant Manager to Assistant Vice President in 1988.
Ron was appointed to the Board of Directors on December 31, 1993, and was named Manager of the Information Systems Department in 1994. In May 1996 he was promoted to Vice President. In 2006 he was named Chief Information Officer (CIO), and in 2007 he joined the Investment and Executive Committees. He was appointed to the Management Committee, formed in July 2009, and became Chairman in 2010.
After his brother, Steve Rutledge, retired as FMH President & CEO in 2010, Ron was appointed President and Chief Executive Officer. During his time as president, FMH's written premium has doubled from $500 million to over $1 billion, and surplus has similarly grown from $300 million to $450 million.
When asked about his favorite FMH memories, Ron said, "I've always enjoyed the Annual Meeting dinner dances when everyone shows up looking their best and, of course, the 100th and 125th anniversaries were highlights in the last 40 years. My favorites are company events like those that brought everybody together: the company picnic, the old fall sales trips and the new field collaboratives, the St. Baldrick's head shaving extravaganzas – they've always been a lot of fun and are a great time to catch up with folks you don't get to connect with on a daily basis."
In retirement, Rutledge and his wife look forward to spending more time with their family, especially the grandkids, and staying warm at least part of the winter at their second home in Fountain Hills, AZ.
---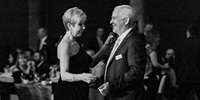 "It's been an incredible journey, and now Tammy and I are ready for the next adventure. I will definitely miss everyone at FMH as well as my industry colleagues, but the time is right to step out of the day-to-day leadership of the company and turn those duties over to Shannon." - Ron Rutledge - President & CEO
---
"Our company is in a great financial position, and Shannon has a great team to help him execute his vision for the company while I continue to lend my support and expertise as Chairman of the Board," he said.
Ron Rutledge will be succeeded by Shannon Rutledge, effective December 31, 2021.
Ron serves on the Board of Directors for National Crop Insurance Services (NCIS); the Board of Directors and Executive Committee of the Crop Insurance and Reinsurance Bureau (CIRB), and the Board of Directors for the National Association of Mutual Insurance Companies (NAMIC).
Farmers Mutual Hail would like to thank Ron for his years of service and wishes him the best in retirement!