Every year for the past decade, Farmers Mutual Hail has donated to the Ovarian Cancer Community Outreach Organization (OCCO), a non-profit, volunteer-powered organization founded in 2009 by the late Connie Rutledge, sister of FMH CEO & President Ron Rutledge. Connie established the OCCO while she was fighting her own personal battle with ovarian cancer.
OCCO merged with the Wisconsin Ovarian Cancer Alliance (WOCA) earlier this year and created The Connie Rutledge Legacy Fund (CRLF). This partnership keeps Connie's vision and legacy alive while strengthening their ability to raise awareness of ovarian and other gynecological cancers, as well as greater financial support throughout Wisconsin.
While the annual "Tee Up for Cancer" charity golf event – the largest fundraiser for CRLF – has been cancelled this year due to the pandemic, FMH continues to donate to the organization in honor of Connie. FMH recently donated $10,000 to the fund, bringing the total donated to CRLF by FMH to over $102,000 since the organization's inception.
"It is truly an honor and a pleasure to support the continuing efforts of the organization that was founded by my sister," said Ron Rutledge. "Connie was a champion at making a difference in peoples' lives and her legacy is a tribute to her unending quest to help people."
During the course of Connie Rutledge's treatment for ovarian cancer, she discovered three important things that shaped the mission of her organization: many women weren't aware of the symptoms of ovarian cancer; they couldn't cope with the financial burden of treatment; and, finally, she truly believed that finding a cure was possible. These three tenets — awareness, support, and hope — formed the foundation of Connie's organization. She passed away in September 2010, but the group continues to provide hope and support in her memory. In the past decade, OCCO gave back over $420,000 within its communities and was able to support over 350 women.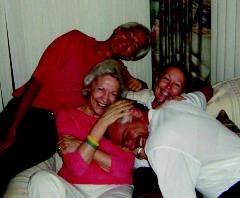 The late Connie Rutledge (right) having a fun moment with her brothers, Steve Rutledge (top) and Ron Rutledge (bottom), and their mother, Rose Rutledge (middle).