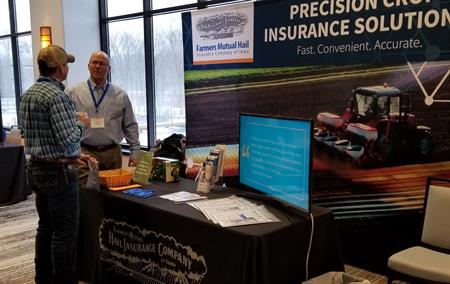 FMH works to maintain an industry presence and to support our agency partners in advancing the agricultural technology landscape by sponsoring and attending significant farm and business events every year.
"We're helping those growers we're already working with have that conversation about precision with their agents," said Dawn Stoppelmoor, Sales and Marketing Business Development Manager, who represented FMH at the AgTech Expo and spoke with current and prospective customers alike.
Education is another big part of trade shows. ACR Specialist Ryan Harris also went to the AgTech Expo and said a lot of growers don't know that FMH isn't brand-specific when it comes to precision data.
AgTech Expo: Indianapolis, IN - December 16-17
FMH attended the AgTech Expo to showcase the benefits of Precision Crop Insurance Solutions and brush shoulders with industry experts. Members of the Precision and Claims teams spoke with attendees, promoted our new partnership and technology connection with Climate FieldView™, and offered trade show goers the chance to enter our Climate FieldView Drive drawing.
Farm Futures Business Summit: Iowa City, IA - January 22-24
The Farm Futures Business Summit hosts two events on farm financial planning and risk management to guide today's producers through their toughest challenges. Newer producers received high-level farm finance training at the Ag Finance Boot Camp, and more experienced producers developed skills to reach their business goals at the Business Summit. FMH is proud to sponsor events like this that work to secure the financial future of America's farmers.
Top Producer Summit: Chicago, IL - January 27-30
FMH sponsored The Top Producer Summit this year, which brings together farming peers from across the U.S. to develop business opportunities and connect. The conference and trade show offered five event tracks that cover a variety of topics including the Top Producer Seminar, Executive Women in Agriculture, Tomorrow's Top Producer, Legacy Project, and the Hemp Summit.