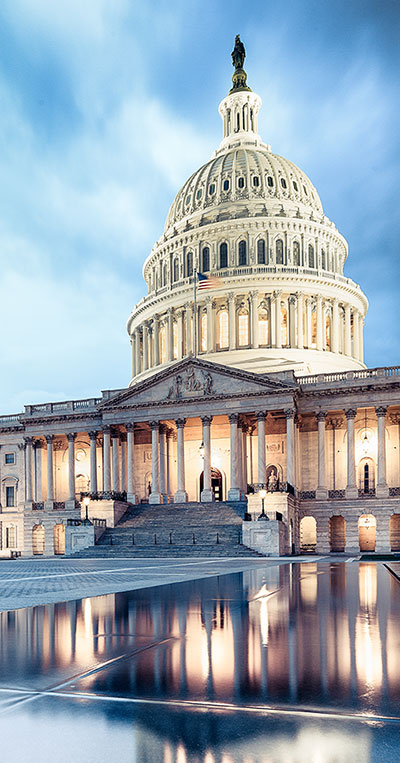 Three participants from FMH graduated from the CIRB Emerging Leaders Program at this year's Spring Fly-In Event and Policy Conference in Washington D.C. in early April. Strategic Account Manager R.J. Brinkmeyer, Assistant Vice President—Training & Development Tracy Klever, and Assistant Vice President—Compliance Ryan Kramer, were presented diplomas for their completion of the program.
The Emerging Leaders Program (ELP) is designed to help professionals in the crop insurance industry increase their knowledge and hands-on experience with key issues. This year's graduating class marks the fourth year the program has helped build the next generation of crop insurance leaders.
Kramer became involved with the ELP because he was interested in advocating for the crop insurance industry. "I was previously active in local and national politics and was interested in how advocacy works for crop insurance at those same levels. I spoke to those that had gone through the ELP program and, based on their experiences and stories, I knew that it was something that I would enjoy."
As part of the program, participants meet with congressional leaders to advocate for the crop insurance industry in Washington D.C. during the conference.
For Brinkmeyer and Klever, meeting with elected officials was a highlight of the program. Klever explained, "Visiting our elected officials and their staff was the most rewarding [part]. They truly are listening to us and working hard for their constituents. It was gratifying seeing this first hand."
Brinkmeyer also values working with industry leaders as part of the program: "Advocating for crop insurance on the Hill was the most rewarding experience. Being taught by industry leaders and professionals and then using my skills to speak to the Senators and Representatives in person [was rewarding]."
Brinkmeyer, Klever, and Kramer attended the conference along with FMH CEO and CIRB Chairman Ron Rutledge and FMH Board Member Aaron Rutledge. A total of 29 CIRB members and staff met with representatives from 38 congressional offices. Participants met with allies in the crop insurance industry as well as some offices not traditionally involved with crop insurance issues.
In addition to meeting with officials at the conference, participants also took part in "Lobby 101" training to prepare for congressional visits. The conference concluded with the Crop Insurance on Capitol Hill Reception, which hosted congressional members and staffers and included a graduation ceremony for the Emerging Leaders.