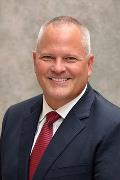 (West Des Moines, Iowa – October 25, 2018) – Farmers Mutual Hail Insurance Company of Iowa (FMH) is proud to announce that Patrick Faga, Executive Vice President of the Property & Casualty Division, has been named Chief Marketing Officer (CMO) effective October 1, 2018.
As CMO, Faga will oversee the FMH sales, marketing, and training teams in addition to maintaining his duties as Executive Vice President of the P&C Division. His leadership will be crucial to driving FMH's continued growth and expanding FMH key value propositions such as Precision Crop Insurance Solutions, which provide farmers the ability to use precision data for crop insurance claims adjustments and required reporting.
Faga held the position of Senior Vice President & Manager of the P&C Division at FMH from 2011 until 2016. Before joining FMH, he was President & CEO at the Central Iowa Mutual Insurance Association. Faga has over 25 years of experience in the insurance industry and has served on many industry-related state and national boards. He currently serves on the Board of Directors of NAMIC Insurance Company Inc. (NAMICO) and the Iowa Insurance Institute.
"Pat has wide breadth of experience in not only sales, but in all aspects of insurance – and more importantly he brings a passion for the business," said FMH President & CEO Ron Rutledge. "He will continue to be a great member of the FMH team in his new role and I look forward to his future success!"