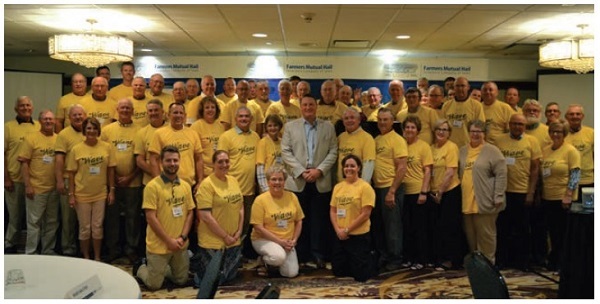 The annual FMH Reinsurance Managers Meeting was held this year in West Des Moines, Iowa in late June. FMH has brought together managers, board members, and key staff from all FMH direct reinsured mutual insurance companies for over 20 years to learn about important industry issues and management topics.
This year's keynote speaker was Allison (Vermeer) Van Wyngarden, Vermeer Corporation's director and a third-generation Vermeer family member. She spoke about how Vermeer is taking steps now to adopt new best practices that will enhance their position in the future. Some of the initiatives they have recently launched include employee training programs and summer workshops for future generations.
Even though Vermeer is an international manufacturing company, it is a family-run company that values and focuses on families, employees, and customers, much like FMH and its mutuals.
Guest speaker Brian Ferentz, University of Iowa Football Offensive Coordinator/Tight Ends, spoke to the group about some of the challenges he faces when building a championship team. Ferentz also discussed how the level of player intensity and the focus on winning has changed over the years in the Big 10 Conference. He explained how the values he learned from football can be applied to business: building a culture of respect, legacy, and tradition – along with recruiting people that match your culture – can lead to success.
Other speakers included Alamance Farmers' Mutual Insurance Company President Doug Fincannon, Casey's General Stores Corporate Vice President of Marketing Mike Richardson, Munich RE Project Managers Karl New and Serena Garrahan, FMH Senior Vice President - Marketing Dave DeCapp, and multiple members from the FMH Reinsurance team.
Attendees and their families also spent time exploring the Des Moines area, enjoyed golf at Legacy Golf Course, and received a private tour of the sprawling vintage Chevrolet automobile collection of Dennis Albaugh, Founder and Chairman of Albaugh, LLC.
Image: Attendees welcomed Brian Ferentz in their Iowa Wave t-shirts, which were provided by FMH. The proceeds from the t-shirts directly fund the University of Iowa Stead Family Children's Hospital (UISFCH). The "Iowa Wave" began in 2017 when nearly 70,000 Iowa fans stood together and waved to the children at the UISFCH, which overlooks the Iowa football stadium. The wave has become a tradition during every Iowa football game.