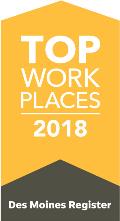 (West Des Moines, Iowa – Sept. 17, 2018) – Farmers Mutual Hail Insurance Company of Iowa (FMH) has been awarded a 2018 Top Workplaces honor by The Des Moines Register. FMH is ranked number 12 out of 50 Iowa mid-sized businesses.
"We have always prided ourselves as a family-focused company," said FMH President and CEO Ron Rutledge. "We put effort into building a workplace culture that is welcoming, innovative, and supportive of growth and opportunities. We are pleased to receive a 2018 Top Workplaces award and to be recognized for a culture that is as much a part of this company as the work we do."
The Top Workplaces list of only 150 businesses across Iowa is based solely on employee feedback gathered through a third-party survey administered by research partner Energage, LLC. The anonymous survey measures several aspects of workplace culture, including alignment, execution, and connection, just to name a few.
"To achieve a Top Workplaces honor, a company needs to be more than just a successful business," said Debbie Ladehoff, FMH Vice President of Human Resources. "FMH is recognized as a top workplace because we offer a competitive benefits package, create a positive work environment, and give back to the communities our employees live in. Our employees have opportunities to advance in their careers, plus impact the livelihoods and legacies of America's farmers."
FMH is headquartered in Iowa, the same state where it was founded over 125 years ago. FMH provides comprehensive risk management solutions to protect the livelihoods of America's farmers, including private and federal crop insurance, reinsurance products and services, as well as farm and ranch insurance that includes auto, property, and liability coverage. The organization currently employs nearly 300 employees between its West Des Moines and Story City offices, and around 400 employees across the nation in sales, claims, and adjusting roles.
Farmers Mutual Hail engages in the Top Workplaces survey every five years. In 2013, the company was also awarded a Top Workplaces honor by The Des Moines Register.
"At the end of the day, this award truly reflects the employees that work at FMH," added Rutledge. "Each individual adds to the culture here, and they should be proud of what they have helped to create."