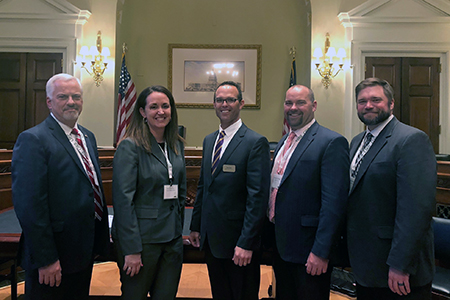 At CIRB's Spring Fly-In and Policy Conference, FMH President and CEO and CIRB Chairman Ron Rutledge awarded diplomas to seven participants graduating from the CIRB Emerging Leaders Program, including two participants from FMH: Underwriting Manager Sheila Backer and Regional Claims Manager Chad Groen.
Entering its fourth year, the Emerging Leaders Program is designed for professionals in the crop insurance industry seeking to increase their knowledge and hands-on experience with key issues. The program is helping to build the next generation of crop insurance leaders.
As participants in the class of 2018, Backer and Groen each speak highly of their opportunities to meet with representatives in Washington D.C., a requirement of completing the program.
Backer explains one of the key outcomes of the program is "building relationships with our local congressmen and congresswomen," then adds, "it's been really interesting to get to know them and, as Iowans, we have a lot of good champions. We're just making sure our representatives know we're around and as the Farm Bill comes up, we're here to help."
Groen shares his perspective from conversations on the Hill: "The [Emerging Leaders] program helps in understanding the entire picture of crop insurance – how important it is to rural America. As someone who works in the field, it's important for us to be able to relate to farmers, agents, and 'Main Street America.' We're going to work with you, we're going to pay your claim accordingly, and we're going to keep you going and farming the next year."
Backer and Groen joined Ron Rutledge, Executive Vice President of Crop Insurance Shannon Rutledge, and Vice President of Claims and Assistant Claims Manager Aaron Rutledge as FMH's representation during the conference. In sum, CIRB members and staff led 36 meetings with congressional offices. Participants met with crop insurance champions in the House and Senate as well as offices who have not traditionally been engaged on crop insurance issues.
The fly-in was well-timed as the day after it concluded, the House Ag Committee released its draft farm bill text. CIRB and FMH will continue to keep agents informed as the 2018 Farm Bill progresses.