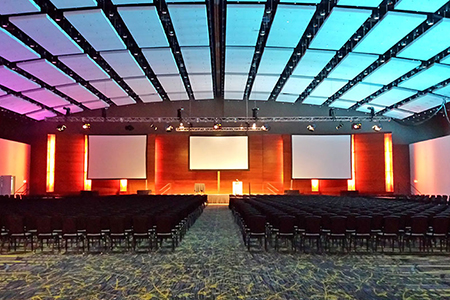 FMH proudly serves as one of the original investors and company mentors in the Greater Des Moines Partnership's Global Insurance Accelerator (GIA). The GIA helps insurance-based technology startups grow by providing them with seed funding, mentors, and 100-days of on-site support at the GIA office in Des Moines.
The eight 2018 GIA cohort startups recently completed their 100-day program with final presentations taking place April 25 at the Community Choice Credit Union Convention Center in Des Moines. The presenters offered a glimpse into the future of the industry with demonstrations of their innovative insurance products and business models that incorporate artificial intelligence (AI), gamification, continuous underwriting, portals, apps, and more.
The 2018 cohort tech startups included participants from locations throughout the United States, as well as Canada and the United Kingdom. GIA final presentations were one segment of the larger Global Insurance Symposium that ran from April 24–26. The Global Insurance Symposium brings together insurance professionals to discuss current industry topics and trends with a focus on innovation and regulation.