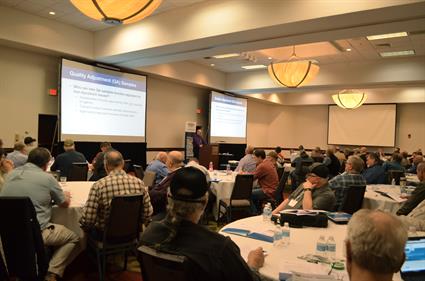 FMH hosted two National Adjuster Schools in February and March in West Des Moines, Iowa for FMH crop adjusters from across the country.

"This training provides the latest updates regarding claim adjustment procedures, as well as provides the adjuster with the necessary classroom training hours to meet RMA annual requirements," said Jim Wilson, Assistant Vice President of Claims.

Each school kicked off with a welcome from President & CEO Ron Rutledge, who gave an update about FMH and the crop insurance industry overall. Larry Ewart, Senior Vice President of Claims, provided an update from the Claims Department, and after a safety presentation, the adjusters broke out into classrooms to focus on specific topics.

The agenda included compliance and documentation overviews, product and provision updates, quality adjustment classes, and Precision Solutions training. Motivational speaker Joe Coles addressed the entire group at the end of the three-day training with his engaging messaging about growing better professional relationships. An Adjuster Banquet with a Service Awards Ceremony was held the last night of each school.