FMH employees warmly welcomed Kathleen Ruddy, CEO of the St. Baldrick's Foundation, and Alyssa McKinney, Director of Development at Des Moines' Blank Children's Hospital, to the home office on Wednesday, February 21, for a ceremonial check presentation. Both leaders were on site to address the crowd of FMH employees and recognize their volunteer and financial contributions toward fighting childhood cancers.
"We're here today to celebrate a new grant you helped make possible at Blank Children's. We're excited your support can help in such a meaningful way," said Ruddy. She elaborated on the importance of the fight against childhood cancers and advocated for the continued support of the foundation's effort to pursue promising research and give survivors long and healthy lives. "Thank you to the entire leadership team for creating a culture that cares about its community," added Ruddy.
FMH President and CEO Ron Rutledge joined Ruddy on stage to present a $50,000 check to Ms. McKinney, who accepted on behalf of Blank Children's Hospital. "Thank you for this level of support," said McKinney, "This really does make a difference in the care and social work program. We are pleased to be a part of St. Baldrick's."
Ruddy later presented Rutledge with an award on behalf of the St. Baldrick's Foundation and the National Association of Mutual Insurance Companies (NAMIC). The organizations jointly recognized FMH's contributions and congratulated FMH for 125 years in business.
NAMIC is a strong supporter of the St. Baldrick's Foundation, and FMH founder W.A. Rutledge was instrumental in forming NAMIC in 1895. FMH remains a member of the organization to this day.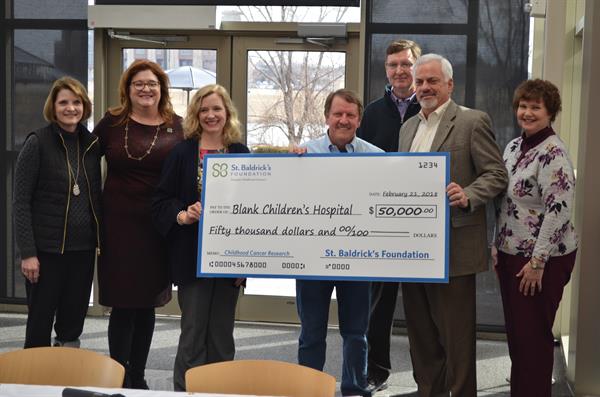 Pictured L to R: Renee Walters, Kathleen Ruddy (St. Baldrick's Foundation), Alyssa McKinney (Blank Children's Hospital), Frank Bigley (FMH retiree), Jim Polish, Ron Rutledge, and Debbie Ladehoff.