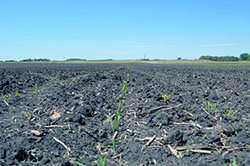 A late-April storm struck the Great Plains and Midwest regions, affecting some areas that had experienced good planting conditions earlier in the month. With crops already emerging in many states, replanting efforts were underway, and with them, replant claims.
"I received a call from Adjuster Kent Fischer in Missouri. The farmer had just finished planting 2,000 acres of corn, and Kent knew he was planning to report his acres using ACR after planting," said Branden Plummer, Precision Technology Specialist. "He contacted me to see if we could use that planting data he already collected for this claim."
ACR stands for Automated Crop Reporting, which is the electronic transfer process to seamlessly use precision data for crop insurance reporting purposes.
To process the Missouri replant claim, the adjuster needed to assign unit numbers to the land.
"Typically, the adjuster would need to print the contract summary report with the location and section numbers and then match them to the units," said Cameron Bishop, Field Claims Supervisor. "This can be a time-consuming process for the adjuster, especially for large farms like this one."
Instead, the farmer sent his precision planting data to Plummer, who was able to easily upload the data via ACR into the FMHA mapping application. He assigned units to the land, and then generated a map-based report for the adjuster to use for the replant claim.
"I got the call from Kent at 3 in the afternoon. I received the farmer's data later that day, and then was able to provide the map-based report to Kent and the farmer by the next morning," said Plummer.
Fischer used the map-based report to record the number of acres affected and the estimated number to be replanted. This not only saved him time in finding this information, but it reduced the amount of time he needed to spend with the farmer – which meant the farmer could get back into the field sooner.
"The farmer was pretty happy," added Bishop. "Using precision data definitely helped with speed and service."