Aaron R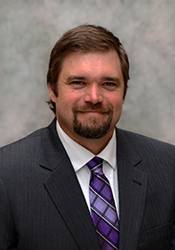 utledge, Assistant Vice President and Compliance Manager, deepened his industry involvement and advocacy knowledge by participating in the Crop Insurance and Reinsurance Bureau (CIRB) Emerging Leaders Program. Rutledge, along with five other professionals, was part of the inaugural class of the year-long program; celebrating their program completion with a graduation ceremony at the 2016 CIRB Fly-In and Policy Conference event.
The Emerging Leaders Program is designed for professionals in the crop insurance industry that seek to increase their knowledge and hands-on experience with key issues. CIRB launched the program in 2015 to ensure the next generation of crop insurance leaders is equipped with the tools they need to be effective advocates.
"Getting that next generation up on Capitol Hill isn't when they're in senior leadership positions," said Rutledge. "They need to start now."
The six Emerging Leaders Program class members participated in events across the country, receiving advocacy training and networking with industry leaders. Program highlights included interacting with CIRB's Executive Committee, receiving issue briefings, meeting with Members of Congress and their staffs to serve as crop insurance's voice on Capitol Hill, and learning from industry leaders at USDA's Risk Management Agency and National Crop Insurance Services.
"We also met with other ag coalition members," added Rutledge. "Meeting these contacts…you get another perspective from the ag community."
To complete the program, members were encouraged to bring their advocacy efforts to their hometowns and meet with local representatives to discuss crop insurance. Rutledge met with Iowa Congressman David Young in March.
"My goal is to get more voices out there – to bring more awareness to the needs of farmers and the necessity of crop insurance – from government leaders, right down to the communities where farmers work and live," said Rutledge.
Aaron Rutledge will continue to attend CIRB Fly-Ins along with FMH President and CEO Ron Rutledge, who also serves as Vice-Chairman on the CIRB Board of Directors and Executive Committee.