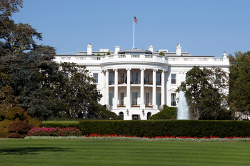 When cuts to America's crop insurance were slipped into the budget deal just days before Congress was scheduled to vote on it, the nation's farming communities and industries rose up and voiced their opposition in one loud, unified voice – and caught the ear of Washington.
Farmers Mutual Hail sent communications to agents and supporters asking them to reach out to their elected officials to oppose the harmful cuts.
Though the budget deal was passed by Congress on October 28, House and Senate leaders immediately announced promises to strip the crop insurance provisions through subsequent legislation, which they fulfilled by repealing the provisions in the Highway Bill, passed on December 4.
"This wasn't just crop insurance that spoke out," said Aaron Rutledge, FMH Board Member and P&C Operations Associate. "The crop insurance coalition included members from The Big I and the American Farm Bureau Federation and others – the whole industry was together."
The cuts would have taken away $3 billion over 10 years from the crop insurance private sector delivery system. The deal included renegotiating the Standard Reinsurance Agreement (SRA) – the contract between companies and the government – that would result in a cap on the rate of return equal to 8.9 percent as compared to the current rate of 14.5 percent.
The actual rate of return experienced by crop insurance companies now is much lower than 14.5 percent, so lowering it would significantly impact the private sector delivery system currently in place, and would pose extreme challenges to maintain the successful public-private partnership.
"With the last farm bill, crop insurance has already cut an estimated $12 billion," added Rutledge.
Rutledge, along with FMH President and CEO Ron Rutledge, traveled to Washington, D.C. the first week of November to speak with Representatives and Senators about these cuts and to gain support for the crop insurance industry.
The promised fix to the crop insurance provisions was expected to be part of an end-of-year omnibus spending package for consideration in mid-December. With the strong and consistent opposition from rural America over the month of November, House Agriculture Committee Chairman Mike Conaway (R-TX), along with other Congressional leaders, worked hard to repeal the cuts even sooner in the Highway Bill.
"It's important to recognize the individuals [in Congress] that stood against it," said Aaron Rutledge. "To reach out and thank them for their support."