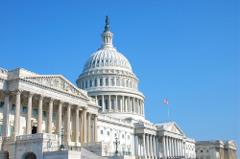 Last week, budget cuts affecting America's crop insurance private sector delivery were included in the budget deal going to the Congress floor on October 29. Between the time late Monday night when the cuts were added to the budget deal, to the time of the vote on Wednesday afternoon, the nation's farming and crop insurance communities rose up and voiced their opposition loudly and consistently to their congressmen, catching the attention of the media.
Farmers Mutual Hail thanks all of those that reached out to their elected officials to express their opposition to the cuts; your outreach truly made an impact.


The budget was passed by Congress, but the next day House leadership announced a pledge to reverse the cuts to crop insurance when the upcoming federal funding measure is taken up later this year. The following statement was released by national crop insurance organizations on October 29:
"In response to the Senate budget agreement announced today to avoid cuts to crop insurance, the Crop Insurance and Reinsurance Bureau (CIRB), National Crop Insurance Service (NCIS), and American Association of Crop Insurers (AACI) released the following statement:
The crop insurance industry is pleased that Congress upheld its promises to America's farmers. We join with stakeholders across the agricultural community in thanking the House and Senate Agriculture Committees for fighting for the crop insurance program. We also thank House and Senate Leadership for their recognition of crop insurance's role as the centerpiece of farm risk management. We appreciate all who stood up for the public-private partnership that ensures timely service for farmers after times of disaster.
We will continue to work with farmers and ranchers, growers, lenders, input suppliers, processors and others to support Leadership's commitment to strip the crop insurance provision from the omnibus funding package that will be considered later this year. The quick action taken to protect crop insurance since the proposal was unveiled late Monday night shows that rural America is willing to fight to maintain the critical support that crop insurance provides."