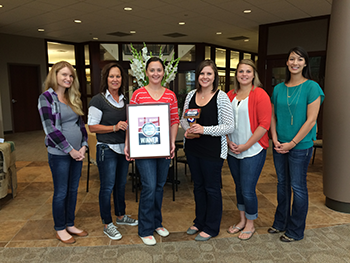 After six weeks of campaigning for votes and passing contender after brand contender, Farmers Mutual Hail won Lessing-Flynn's 6th Annual Battle of the Brands.
Lessing-Flynn, a Des Moines advertising agency, holds the annual Battle of the Brands to recognize the top Iowa brands through bracket-style elimination voting. This year, 32 Iowa brands were nominated by their fans to participate in the competition, which began mid-June.
"This year we had the closest Championship round in Battle of the Brands history," said Tom Flynn, Lessing-Flynn President. "In the end it was Farmers Mutual Hail's continuous social engagement during the competition that brought them to the top."
With a brand that represents over 120 years of tradition and commitment to protecting the livelihood of America's farmers, FMH was proud to be recognized by our community as a brand leader.
"Farmers Mutual Hail is excited to have been part of Battle of the Brands because it has been a household name in rural communities for generations," said Carrie Flynn, Marketing Communications Manager at Farmers Mutual Hail. "We are proud to be recognized as a leader in Central Iowa, and take pride in the strong tradition that our brand represents."
Along with the title of Brand Champion, Farmers Mutual Hail receives $5,000 in marketing support from Lessing-Flynn to donate to the charity of its choice, the Flaughless 5K benefitting the Wounded Warrior Project.
Farmers Mutual Hail has supported the Flaughless 5K each year since it began in 2012. This memorial event was established in honor of Daniel James Flaugh (1986 - 2011), a SPC E4, Calvary Scout in the United States Army, who after being honorably discharged in 2008 struggled with Post- Traumatic Stress Disorder (PTSD).
Georgia Sysouchanh, Marketing Coordinator at Farmers Mutual Hail, along with Flaugh's family, organized the Flaughless 5K after his passing in 2011. All proceeds from the Flaughless 5K go to the Wounded Warrior Project to provide support for all soldiers struggling with life after war.
Lessing-Flynn will team up with Farmers Mutual Hail to provide the Flaughless 5K with marketing support in hopes of making this year's race the best one yet. This year, Sysouchanh's goal for the Flaughless 5K is to connect with more veterans and families who have been impacted by PTSD and increase awareness about the free programs and services offered by the Wounded Warrior Project.
"We're a relatively small and localized event in Eastern Iowa and it takes a tremendous amount of volunteer hours to have a successful event each year," said Sysouchanh. "With the extra resources available to us, we will be able to reach a wider audience through Lessing-Flynn's advertising and public relations resources."