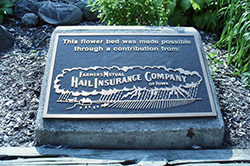 Since its inception in 1993, FMH has supported the Iowa StateFair Blue Ribbon Foundation, an organization established to raise funds for the renovation and preservation of the historic Iowa State Fairgrounds.
Over the past two decades, we have sponsored events like the Corndog Kickoff, a benefit event with silent and live auctions, and fair food samplings. The 2014 Corndog Kickoff, held on July 12, raised a record high of $424,000 for future renovations. In 1997, FMH gifted the grounds with a flower garden near the Walnut Center. The garden contains over 20 varieties of perennials and is still enjoyed by fairgoers to this day. If you happen to be walking around the fairgrounds this August and need a place to rest, find a seat on the FMH bench, located on the south side of Pella Plaza.
As fair season gets underway across the Midwest, FMH is proud to support the rich traditions and celebration of agriculture that every county and state fair brings to new generations.