Using the Policyholder Center

There are two ways to add banking information for ACH claim payment in the Policyholder Center (PHC):
1. Add Bank Info to Premium/Billing Section:
You can add bank account information and opt for direct claim payments under the Premium/Billing section and Bank Accounts tab by selecting the 'Set as ACH Claim Payment Bank Account' checkbox.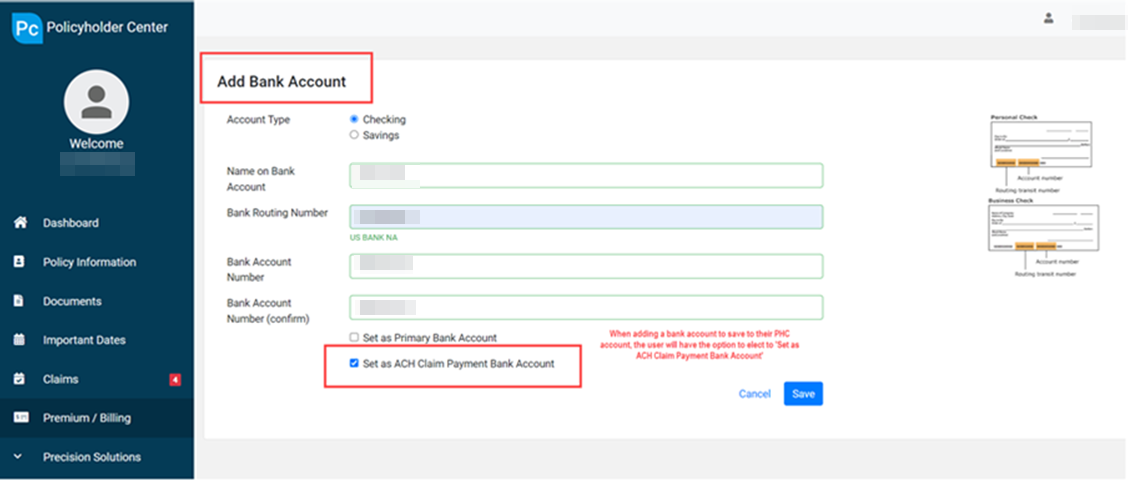 2. Make a One-Time Payment:
When making a one-time payment in the PHC Premium/Billing section, once you select 'Save Bank Account for Future Payments', you will have the option to 'Save Bank Account for Claim Direct Deposit (ACH)'.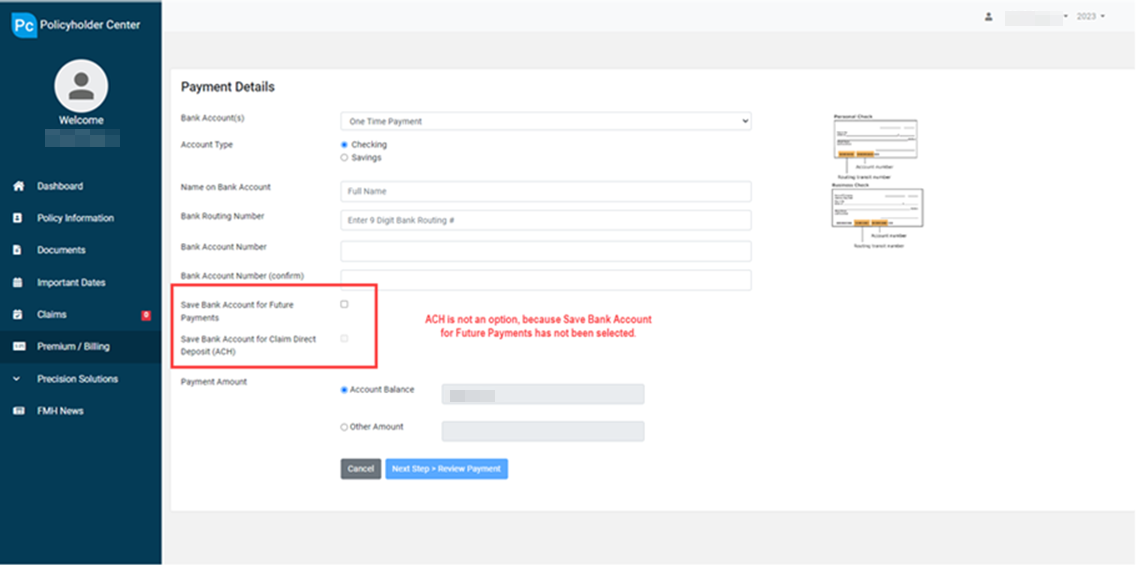 Frequently Asked Questions
How can I confirm my banking account has been added?
Once your bank account is added in the PHC, the saved banking information and ACH Claims option will be visible on the 'Bank Accounts' tab.
Can I select which policy to add my banking information to?
In the PHC, the ACH banking information will be saved to all policies associated to all entities in the account. Adding ACH banking information at the policy level can only be done in FMHA by an agent or FMH claims analyst.
Can I add multiple banking accounts?
Only one ACH bank account is allowed on file. If there is already a bank account for ACH on the policy – either added by an FMH analyst in FMHA or by yourself in the PHC, you will not have the option to 'Save Bank Account for Claim Direct Deposit (ACH)'.
Will I need to re-add my banking information for claims direct deposit again next year?
No, once the banking account information is added it applies for future claim payments.
If you need assistance, please contact your FMH agent or the FMH Help Desk at 800-532-1581 or helpdesk@fmh.com.