Precision Solutions: Planting the Seed - June 2018
Automated Crop Reporting (ACR) is the farmer's process of electronically submitting precision data to the agent to use for acreage or production reporting. The data is more accurate than traditional methods, and can improve agent reporting processes as well.
How ACR Benefits Agency Processes
ACR has multiple benefits for farmers, including saving them time and paperwork. The accuracy of the reported data combined with electronic processing can also benefit your agency. ACR can:
Reduce Keying Mistakes
Save Agency Time in Processing
Eliminate Errors from FSA Reports
Provide More Accurate Reports
In Their Words: Agency's Success with Precision Solutions
Read about how Precision Solutions has not only added value for a Nebraska family agency's customers, but brings a new technology value to their business.
---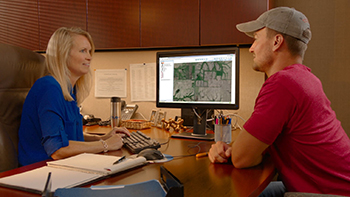 Precision Solutions Adds Value to Family Agency
Agents Shelly Pfisterer and Jeana Harms, with Agri-Risk Solutions in Gering, NE, are in their third year of offering FMH Precision Solutions. They continue to promote Automated Crop Reporting (ACR) as an effective and accurate way to report acres because it has not only been incredibly successful for their customers, they have found that it brings value to their business.
"The customers of Agri-Risk Solutions love this option as it is a quicker and more efficient way to report planted acres," said Pfisterer. "ACR benefits our agency because we are able to have more precise data. We are able to get the insured's data instantly, and we are able to process replant claims and early loss claims much more efficiently." Read more....
---