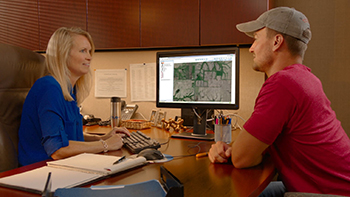 Agents Shelly Pfisterer and Jeana Harms, with Agri-Risk Solutions in Gering, NE, are in their third year of offering FMH Precision Solutions. They continue to promote Automated Crop Reporting (ACR) as an effective and accurate way to report acres because it has not only been incredibly successful for their customers, they have found that it brings value to their business.
"The customers of Agri-Risk Solutions love this option as it is a quicker and more efficient way to report planted acres," said Pfisterer. "ACR benefits our agency because we are able to have more precise data. We are able to get the insured's data instantly, and we are able to process replant claims and early loss claims much more efficiently."
Through ACR, FMH agents can receive data electronically from their insured as soon as they are done planting, which means their policy is more up to date and accurate should disaster strike.
"Last year, we had an insured that lost a sugar beet field three days after the final plant date. Since we reported via ACR, the claim was worked and paid within 10 days. In the past this would have taken over 45 days," explained Harms. "The insured had not even reported acres to FSA as they were busy finishing planting corn and dry beans. This claim was paid the first of June, where in a normal situation it wouldn't have been able to be paid until the 578 was available – which would have been closer to July 15 as that is the deadline to report to FSA. In this situation, the insured was able to receive his indemnity payment around 45 days earlier."
From ACR for acreage and production reporting, to Precision Claims that can also aid in simplifying the APH Review process, the two agents – who also happen to be twin sisters – encourage their customers to use Precision Solutions whenever possible.
"Precision Solutions are valuable to our business as we strive to be innovative and provide the newest technology to our customers. It has enabled us to offer something that not every agency does, and we feel this allows us a great opportunity to help our customers grow and succeed," said Pfisterer.
"Precision Solutions have also helped us attract customers as we are among the few agents in our area using this process," added Harms. "It is a reason to get our foot in the door with new customers to at least discuss the process."
From the beginning, FMH has remained committed as Agri-Risk Solutions' partner in Precision Solutions. Through members of the FMH Precision Team, their agency has received guidance and training every step of the way.
"Our Precision Technology Specialist, Branden, is one of the most valuable assets to our business. We are able have our questions answered immediately, and he helps us solve problems and will meet with our customers whenever we need," noted Pfisterer.
Precision Solutions bring efficiency, speed, and data accuracy to multiple crop insurance processes, including reporting, claims, and APH reviews. Automated Crop Reporting (ACR) is the process of using precision ag data for electronic acreage and production reporting. Agents and insureds can still use ACR to report acreage this year, even if it is their first time using this process. Learn more.