WHAT IS A PRECISION CLAIM?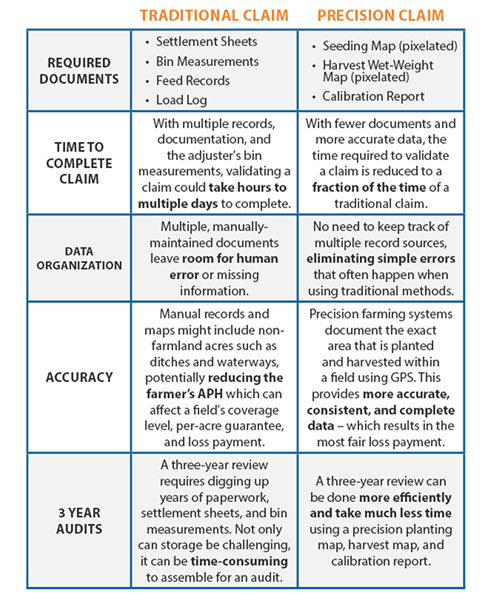 Precision Claims are crop insurance claims that are adjusted by utilizing the data recorded by your precision farming technology. They can be adjusted using only a few pieces of documentation and records from your farm management software, and take only a fraction of the time to complete.
When combined with FMH's Automated Crop Reporting process for electronic acreage and production reporting, your crop insurance processes are faster and more seamless. Plus, when using precision data for crop insurance, you can have confidence that your data is accurate, consistent, and complete — resulting in the most fair loss payment.
Benefits
Processing a Precision Claim only requires three pieces of documentation: A seeding map, a harvest wet-weight map, and a calibration report.
Faster Validation
With fewer documents and more accurate data, the time required to validate a crop insurance claim is reduced.
More Accurate
Precision farming systems document the exact area that is planted and harvested within a field using GPS. This provides more accurate, consistent, and complete data – which results in the most fair loss payment.
Easier Data Organization
You don't need to keep track of multiple record sources, eliminating simple errors that often happen when using traditional methods such as scale tickets and bin measurements.
Efficient 3 Year Audits
A three-year review can be done more efficiently and take much less time using a precision planting map, harvest map, and calibration report.
WHAT IS NEEDED TO COMPLETE A PRECISION CLAIM
If you've recorded precision data while planting and harvesting, only a few pieces of documentation are needed to complete your claim:
Seeding Map
Seeding measured rate maps or seeding field summary are required. The report needs to include the word 'seeding', and include the Insured's name, unit number, and legal description, along with the crop, plant date, acres planted, and variable rate. A larger seeding measured rate map may be requested to clarify the thumbnail maps.
Calibration Report
You may provide FMH's Calibration Report where calibration is recorded manually or software generated for each crop. Reports must show the machine was calibrated within 3% of machine displayed weight compared to scale measured weight.
Harvest Wet-Weight Map
Harvest wet-weight maps or harvest field summary are required. The report needs to include the crop, harvest date, acres harvested, total wet weight, average moisture, along with the farm name and information. A larger wet weight map may be requested to clarify the thumbnail maps.
Ready To Get Started?
Provide your information to learn more and we will contact you within 72 hours.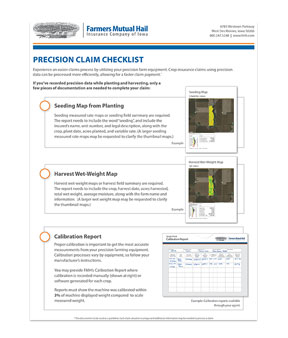 Download the Precision Claim Checklist
with document image examples.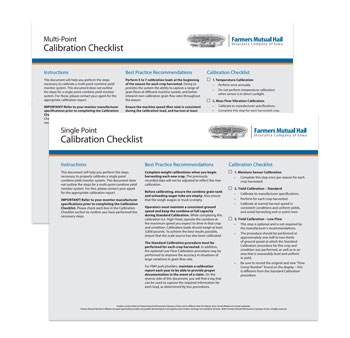 Learn about calibration requirements and download the FMH Calibration Report Form for either multi-point combines or single-point combines.
WHAT TO DO IF YOU HAVE A PRODUCTION LOSS
Should you experience a production loss, the steps to completing a Precision Claim are similar to a traditional claim, but with less paperwork and no need for bin measurements!
As soon as you are aware of a potential loss, contact your agent to report a claim.
Once a notice of loss has been filed, an FMH adjuster will contact you to set up an adjusting appointment.
Use the Precision Claim Checklist to prepare the documentation the adjuster will need to process your claim.
If you are able to provide each of the three required document types, you qualify for a Precision Claim.
If you are unsure if you meet the document requirements, talk to your FMH adjuster. All FMH adjusters are trained in utilizing precision data for a claim, and can help you recognize what you can do next year to meet the qualifications for a Precision Claim.
THREE-YEAR REVIEWS & RMA AUDITS
Speed up and streamline the three-year review process by using your precision data.
If a review is triggered by a high-dollar claim, you can use your FMS to produce your planting maps and wet-weight harvest maps, and pair them with your documented calibration reports. This eliminates the need to search for your settlement sheets and feed records.
Once your adjuster verifies your production, acres and calibration records of the previous years, the review will be completed and your claim will be processed.
In 2011, the RMA introduced new procedures in the Loss Adjustment Manual (LAM) that allow insureds to take advantage of precision data for loss settlement. This data may also be used to report acreage and production. Prior to this time, insureds who relied on and maximized the capabilities of the precision farming systems had few opportunities to utilize the technology for crop insurance purposes.