WHAT TO EXPECT WITH A PRECISION CLAIM
Should you experience a production loss, the steps to completing a Precision Claim are similar to a traditional claim, but with less paperwork and no need for bin measurements!
As soon as you are aware of a potential loss, contact your agent to report a claim.
Once a notice of loss has been filed, an FMH adjuster will contact you to set up an adjusting appointment.
Gather the following documents from your FMS. You can print these out or save them as a PDF. The adjuster will need all maps per county with a loss.


Seeding Map (pixelated)
Harvest Map with Wet-Weight and Average Moisture (pixelated)

Verify that your combine calibration was documented, performed to manufacturer specifications, and is in accordance with RMA's +/- 3% accuracy.You may be able to generate this information from your FMS, or manually maintain this information on a calibration report form. Have this documentation ready for the adjuster.
During your adjusting appointment, simply provide the prepared maps and calibration reports to the adjuster.
The adjuster will need to verify acres; this can be done through your planting maps or FSA 578s, depending on the number of planter-row shut-offs used. Share arrangements generally do not display on FMS reports, and FSA 578s will be used to verify share.
Once the adjuster has processed your harvested bushels, you will need to review the production worksheets and sign-off onthe claim documents prior to receiving an indemnity payment.
If you are set-up with direct deposit, your may receive your indemnity payment even faster.
Printed records must show farm name & location of field (field identification, PLSS, or FSN) along with:
Total Weight & Average Moisture
THREE-YEAR REVIEWS & RMA AUDITS
Speed up and streamline the three-year review process by using your precision data.
If a review is triggered by a high-dollar claim, you can use your FMS to produce your planting maps and wet-weight harvest maps, and pair them with your documented calibration reports. This eliminates the need to search for your settlement sheets and feed records.
Once your adjuster verifies your production, acres and calibration records of the previous years, the review will be completed and your claim will be processed.
In 2011, the RMA introduced new procedures in the Loss Adjustment Manual (LAM) that allow insureds to take advantage of precision data for loss settlement. This data may also be used to report acreage and production. Prior to this time, insureds who relied on and maximized the capabilities of the precision farming systems had few opportunities to utilize the technology for crop insurance purposes.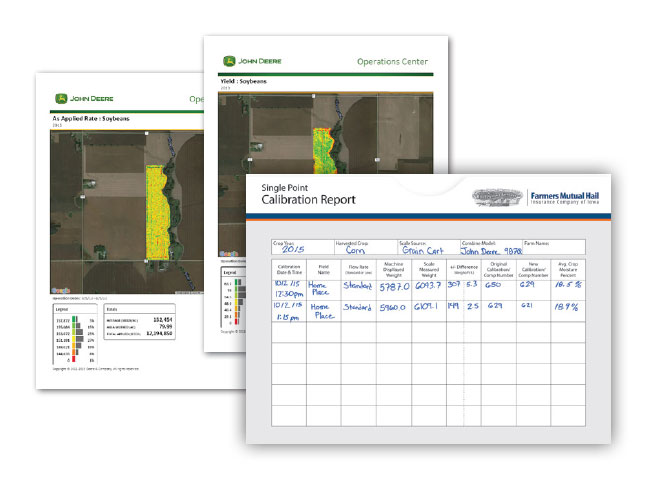 SPECIFIC CLAIM TYPES: IRRIGATED VS. NON-IRRIGATED
When accounting for center pivot irrigation systems with non-irrigated corners, a producer must meet the following requirements to process a precision claim:
WHEN PLANTING:
Meet the discernible break planting requirements for Optional Units (OU) or Enterprise Units by Practice (EP). With precision technology, this will be called a pivot prescription or a boundary.
Planting maps showing acres planted by practice
Used variable rate plant population if recommended by ag experts
DURING PRODUCTION:
Production maps harvested straight through (irrigated and non-irrigated together) without discernible breaks in planting pattern
FMS must show separate production records (including moisture) to qualify for Optional Units (OU) or Enterprise Units by Practice (EP)
Irrigated boundary, also known as a prescription, for areas that require variable rate planting. (For example, they may need a different planting population if required by ag experts.)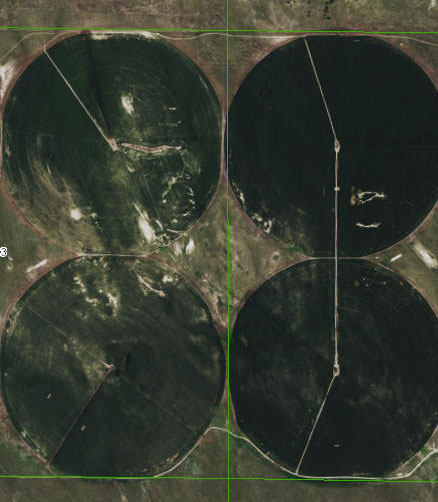 PRECISION CLAIM CHECKLIST
If you've recorded precision data while planting and harvesting, only a few pieces of documentation are needed to complete your claim:
Seeding Map
Seeding measured rate maps or seeding field summary are required. The report needs to include the word "seeding", and include the Insured's name, unit number, and legal description, along with the crop, plant date, acres planted, and variable rate. A larger seeding measured rate map may be requested to clarify the thumbnail maps.
Calibration Report
You may provide FMH's Calibration Report where calibration is recorded manually (shown at right) or software generated for each crop. Reports must show the machine was calibrated within 3% of machine displayed weight compared to scale measured weight.
Harvest Wet-Weight Map
Harvest wet-weight maps or harvest field summary are required. The report needs to include the crop, harvest date, acres harvested, total wet weight, average moisture, along with the farm name and information. A larger wet weight map may be requested to clarify the thumbnail maps.