We understand the difference that the right equipment and insurance policy can make when it comes to harvest time. That's why the JohnDeere 600C Harvest policy leverages your John Deere equipment to provide protection against production loss after wind.
With the John Deere 600C Harvest policy, you have the opportunity to harvest your field with a John Deere 600C Series Corn Head to salvage as much as your downed corn as possible before FMH makes a final adjustment. John Deere 600C Harvest policy is solely offered by FMH and is not reinsured by the FCIC. Coverage under this policy is non-continuous and must be purchased and approved by FMH each crop year.
How Does It Work?

After a windstorm damages more than 5% of a unit with commercially grown field corn, the crop is assessed but final adjustment will be deferred until after harvest.
After harvesting the field with an owned or leased John Deere 600C Series Corn Head, the producer provides the adjuster with the amount of production from the wind-damaged unit.
The adjuster will then determine the amount of mature, unrecovered corn. If this loss exceeds 2% of the unit guarantee, the producer may be eligible for an indemnity payment.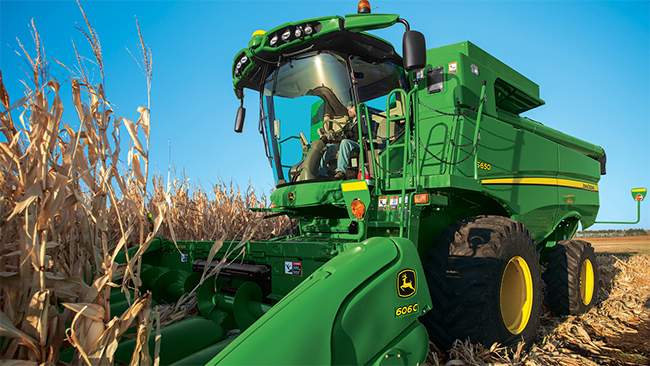 Designed to take advantage of your John Deere 600C Series Corn Head and its ability to harvest downed corn.
Opportunity to harvest your field and salvage as much of your downed corn as possible before we make a final adjustment.
More complete coverage at a discount.
Covered Crops
Commercial Field corn grown for grain.
Termination Date of Coverage
Coverage under this policy will terminate November 1.
Equipment Requirements
The following John Deere model numbers are eligible for this policy: 606C, 608C, 612C, 616C and 618C (with or without Stalkmaster™).
For more details on these models, please contact your local John Deere equipment dealer.