The event, which collectively packaged an impressive 150,000 meals, was held at the Midwest Food Bank in Gilbert, Arizona, and resulted in enough donations for 300 different food banks across the state.
While the FMH Snowbirds Reunion was cancelled this year, the Shepards used their FMH contacts to bring in connections from nearby Mesa for this socially distanced event. Hear from the couple on what it took to bring it all together and more on how they give back to their communities.
How did the February Meals from the Heartland packaging event come together?
Stu: It took a year's worth of planning to put together, and it started with an idea. MFTH wanted to grow, and Becky and I believe in them so much. I went to a meeting with Becky and Joel O'Dell, MFTH's Hunger Fight Supervisor, in February 2020 at the Midwest Food Bank to see their facility and discuss the possibility of this happening.
What challenges did you face in planning the volunteer event?
Stu: I basically was in charge of the fundraising and had to raise $30,000. I sent out literally hundreds of emails about this. We had a wonderful response from people we know all over the country. We reached our total with donations from a lot of generous people that included matches from FMH. I held my breath up until the last minute that it wouldn't be canceled because of COVID.
Becky: The hardest part was getting the semi there because of weather conditions. During February there is mountain snow. It showed up 20 minutes before the event set-up began.
How many people came to volunteer and how did you accommodate them?
Stu: We had over 260 packagers over a three-day period, spaced out over different time slots. A lot of these packagers were from the area, who come regularly to help the Midwest Food Bank. We had a group come from the Peace Corps since they can't go abroad, along with different high school and church groups.
Becky: We had to get release waivers, take temperatures, and coordinate getting volunteers to the right place. We could only put five people at a table, when previously it was ten. Stu and two MFTH staff, Greg DeHaai and Joel O'Dell, walked people through washing their hands, putting on gloves, masks, and hair nets, and then took them to the tables. We had a lot of families come so they could be at one table.
What's your preferred style of music to listen to while packing?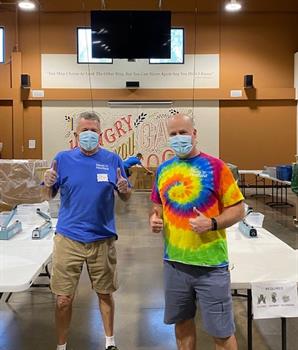 Stu: It has to be fast, fun music. We can't have any slow music because that slows everybody down.
Becky: It would have to be 70s and 80s for me!
How many years have you served as a volunteer and for what organizations?
Stu: I organized a group of FMH employees to volunteer at the first annual Hunger Fight in 2008 at Hy-Vee Hall in Des Moines. So, I've been a volunteer for 13 years.
Becky: I volunteer for hospice and help out at MFTH as needed.

When did the Meals from the Heartland event start at FMH?
Stu: The first Farmers Mutual Hail mobile event, where MFTH came on site, was in 2018. It evolved into an on-site event after working with people at other volunteer events. It's a long story!

What inspires you to keep volunteering?
Stu: Just the need for it, and the people are so friendly that I work with. When I'm in Des Moines I try to go every Wednesday and Friday afternoon to volunteer at MFTH. I see people from FMH there too. As a non-profit, MFTH gives approximately 94 cents of every dollar to the program. Not a lot of non-profits can say that, it's amazing!