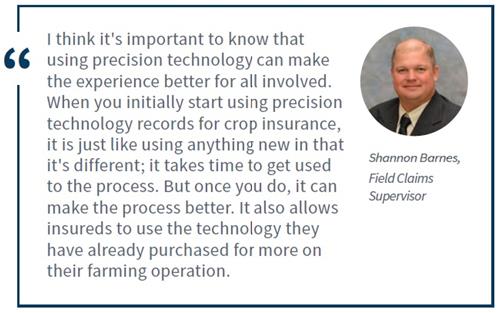 Over 200 FMH adjusters are now trained to process Precision Claims this fall. Continuous education at adjuster schools paired with hands-on training in the field mean the FMH staff is up to date with the latest adjusting techniques and precision technologies.
"We are better [than other AIPs] with precision claims because of the experience that the current adjusting staff has and the time spent teaching adjusters about precision technology. The adjusters who handle Precision Claims are able to proceed and complete most claims without delays in having to contact supervisors or others for assistance," said Shannon Barnes, Field Claims Supervisor.
For a Precision Claim, adjusters just use the farmer's seed map from planting, wet-weight map from harvest, and a calibration report to adjust a claim. Production losses can be processed in a fraction of the time it would take to adjust using traditional methods.
"Farmers comment that the biggest difference they see is the ability to finish claims with the adjuster quicker, and the adjustment is clearer and more understandable," added Barnes. "They like not having to do load logs, bin measurements, and other paperwork."
Precision-trained adjusters have also learned to identify a farmer who is currently using traditional methods to report and provide data for a loss, but might have precision-capable equipment which could be used to improve their crop insurance processes.
"While on the farm, if the insured appears to have the technology or mentions having the technology, we might ask whether they have ever thought about using precision
technology for their crop insurance reporting, or if they knew they had the ability to use precision technology for the multi-peril purposes of reporting APH information, as
well as claims," said Barnes.
He noted that the benefits of Precision Claims extend beyond just the farmer's role – it makes the adjuster's processes faster and easier.
"Once all parties involved have an understanding of what is needed for the claims process, the on-farm time is reduced. Plus, it takes less time for the adjuster to communicate how the claim was worked to others at FMH who review the claim," he explained.
As precision technologies continue to advance, FMH is quickly meeting demand by creating new processes and documents to aid the Precision Claim process. The company recently released a new calibration report form for self-calibrating combines, and fill-able PDF versions of the forms to automate the calculations needed to complete the report.