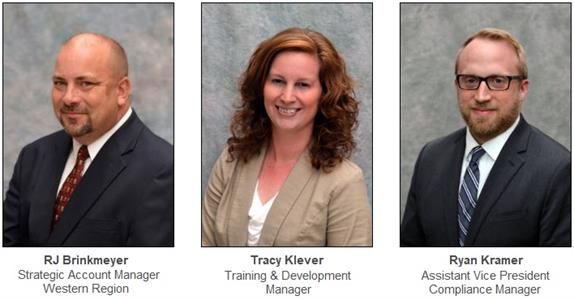 On August 29 the Crop Insurance and Reinsurance Bureau (CIRB) announced that ten industry professionals will participate in the 2018-2019 Emerging Leaders Program (ELP) class, including three employees from Farmers Mutual Hail.
RJ Brinkmeyer, Strategic Account Manager, Western Region, Tracy Klever, Training & Development Manager, and Ryan Kramer, Compliance Manager, have been selected to participate in the eight-month-long program. ELP increases participants' knowledge of key policy issues and prepares them with the skills they need to be effective advocates for crop insurance.
"The Emerging Leaders Program is an established curriculum that provides a great experience for professionals to learn how to tackle the challenges and opportunities facing federal crop insurance," said Ron Rutledge, Crop Insurance and Reinsurance Bureau Chairman, and FMH President and CEO. "CIRB has been leading the way with its advocacy and communications efforts in Washington, D.C. and it is essential to educate our rising leaders on best practices for the future."
Farmers Mutual Hail has graduated six employees through the program in its first three years. Participants attend monthly activities, both in person and via webinars, that provide hands-on learning experiences, advocacy training, and networking with industry peers and governmental leaders. They will apply their training during CIRB advocacy events in Washington, D.C. They will also have opportunities to interact with the CIRB Executive Committee and the USDA's Risk Management Agency in Kansas City.
The class officially kicks off on September 25 and concludes in April 2019 with the participants' graduation during CIRB's Washington, D.C. Fly-In event.
Past FMH participants include Aaron Rutledge, Vice President – Claims; Curtis Swain, Vice President and General Counsel; Ryan Benes, District Sales Manager II; Chock Hefner, District Sales Manager II; Sheila Backer, Insurance Specialist Manager II; and Chad Groen, Regional Claims Manager.
Click here to read the Crop Insurance and Reinsurance Bureau Press Release