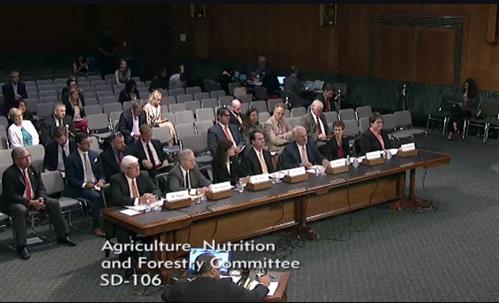 Washington, D.C.- Today, the Senate Committee on Agriculture, Nutrition, and Forestry held a hearing titled "Commodities, Credit, and Crop Insurance: Perspectives on Risk Management Tools and Trends for the 2018 Farm Bill." Ron Rutledge, President and CEO of Farmers Mutual Hail Insurance Company of Iowa (FMH), provided testimony showcasing the vital role that federal crop insurance plays for America's farmers and the rural economy.

"Crop insurance provides farmers, ranchers, and their lenders with certainty that ad hoc disaster assistance cannot provide," Rutledge said. "It provides assistance in a timely manner when disaster strikes. And importantly, farmers are always expected to pay for the protection of crop insurance, unlike ad hoc disaster assistance which is fully-funded by taxpayers."

Rutledge is the current Chairman of the Crop Insurance and Reinsurance Bureau (CIRB) and serves on the Board of Directors for the National Crop Insurance Services. FMH is celebrating its 125th year as a policyholder-owned, family-run mutual company headquartered in America's heartland. As an Approved Insurance Provider, FMH underwrites crop insurance policies provided through independent agents, and invests in technology, training, and services to ensure program integrity.
During his testimony, Rutledge asked the Committee for its continued support for affordable and effective crop insurance for producers of all sizes, crops and regions. In 2016, crop insurance was purchased for more than 90 percent of the nation's 300 million total acres of cropland. He urged the Committee to protect crop insurance in the 2018 Farm Bill and oppose harmful efforts such as means testing or cuts to the premium discount for farmers or private sector delivery.

"Crop insurance is a big tent. Our industry covers farmers of all sizes and covers more than 100 different commodities, including a significant number of specialty crops," Rutledge said, referencing the broad coalition of farm, lending, ag input, conservation, and crop insurance and reinsurance stakeholders who work together to preserve crop insurance.
Click here
to access a video archive of the hearing, including testimony from 16 other agricultural stakeholders, including many who turn to crop insurance during times of natural disaster. CIRB's member companies are proud to provide such a critical risk management tool for farmers and ranchers and look forward to working with Congress to protect the program in the 2018 Farm Bill.
Source: Crop Insurance and Reinsurance Bureau, Inc.