Farmers Mutual Hail has been a long-time supporter of the Juvenile Diabetes Research Foundation (JDRF), but 2016 may have been the best fundraising year yet for the company. A combination of successful fundraising events, plus FMH's generous matching donation, brought the total donation amount to $20,000.
"It is absolutely amazing and we want to thank each and every one of our employees for the generous support of this worthwhile cause!" said Sandy Bergman, IT Manager and member of the FMH JDRF Committee. "Finding a cure for diabetes is something that hits very close to home for many of us, so the JDRF Committee is honored to be part of this success!"
The Greater Iowa Chapter of JDRF echoed Bergman's sentiments on their Facebook page, stating,
"…we are in awe of their fundraising this year! Farmers Mutual Hail's most popular fundraiser is their Valentine's Day Cookie Sale. They hold countless other fundraisers year-round, and this year their Earth Day Sale blew it out of the water. Plus, on top of it, the company matches all funds raised! Farmers Mutual Hail's fundraising total this year is over $20,000!"
JDRF is the leading global organization funding type 1 diabetes (T1D) research. Visit www.jdrf.org for more information and ways you can help.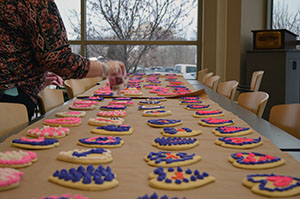 Selling homemade Valentine's Day cookies is just one
of the many fundraising events FMH employees hold
to raise money for JDRF.