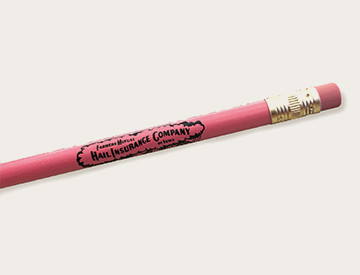 The iconic pink FMH pencil is 100 years old (at least). The following is an excerpt from Bear Ye One Another's Burdens, a book by Virginia Wadsley, published for the Company's Centennial Celebrations in 1993:
Pink pencils, used by the Company since at least 1915, are perhaps the most popular item [ordered by agents]. Such is their impact that pink pencils rank near the hail cloud logo as the symbol of the Company during its centennial year.
Stories are told about them. They have appeared as six foot objects in parades and displays. A gold-stamped, gold-ferruled, hand-numbered limited edition pink pencil was awarded in presentation boxes to the first 1,000 people who contributed to the Company archives and centennial celebration.
Over the years, farmers and school children have been major recipients of pink pencils but they have also been found over time and place from the legislature of Alberta, Canada, in 1915, to a doctor's office in Des Moines, Iowa, in 1990. One agent from Davenport, Iowa, sold his business but continued to order 10,000 pink pencils a year for five subsequent years.
Why pink? The exact story behind the pink pencil is yet to be uncovered, but popular theories include a simple color mix-up when the pencil was ordered – and it just happened to stay; to the belief that the sky turns a yellow-pink before a bad storm; to merely that pink was a favorite color of one of the original Rutledges' wives.
Whatever the origin, the pink pencil has become a recognizable FMH symbol that continues to be a popular item ordered by agents to this day.