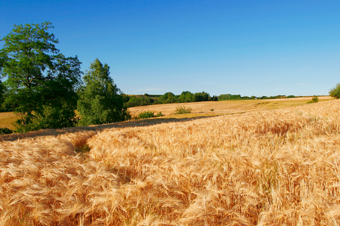 In late October, Agriculture Secretary Tom Vilsack announced the implementation of a new Farm Bill initiative: the Actual Production History (APH) Yield Exclusion, available nationwide for farmers of select crops starting for Spring 2015.
The APH Yield Exclusion allows farmers to exclude yields in exceptionally bad years (such as a year in which a natural disaster or other extreme weather occurs) from their production history when calculating yields used to establish their crop insurance coverage. The level of insurance coverage available to a farmer is based on the farmer's average recent yields.
In the past, a year of particularly low yields that occurred due to severe weather beyond the farmer's control would reduce the level of insurance coverage available to the farmer in future years. By excluding unusually bad years, farmers will not have to worry that a natural disaster will reduce their insurance coverage for years to come.
Under the new Farm Bill program, yields can be excluded from farm actual production history when the county average yield for that crop year is at least 50 percent below the 10 previous consecutive crop years' average yield.
Spring crops eligible for APH Yield Exclusion include corn, soybeans, wheat, cotton, grain sorghum, rice, barley, canola, sunflowers, peanuts, and popcorn.
The USDA's Risk Management Agency and Farm Service Agency staff worked hard to implement several 2014 Farm Bill programs ahead of schedule, such as Agricultural Risk Coverage (ARC), Price Loss Coverage (PLC), Supplemental Coverage Option (SCO) and Stacked Income Protection Plan (STAX). The USDA was able to leverage data from the ARC and PLC programs to extract the information needed to implement APH Yield Exclusion earlier than expected.
"Key programs launched or extended as part of the 2014 Farm Bill are essential to USDA's commitment to help rural communities grow. These efforts give farmers, ranchers, and their families, better security as they work to ensure Americans have safe and affordable food," said Vilsack. "By getting other 2014 Farm Bill programs implemented efficiently, we are now able to offer yield exclusion for Spring 2015 crops, providing relief to farmers impacted by severe weather."
RMA will provide additional program details in December 2014.
Edited from USDA News Release No. 0233.14