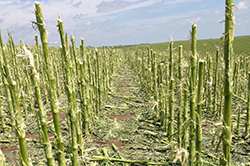 Recently, severe weather has torn up fields across the Midwest. Nebraska has especially seen its share of damage with several storms consisting of winds over 50 mph and hail ranging from pea-sized to baseball-sized. Our excellent team of adjusters has been busy helping producers get back on track.
Despite the intensity of recent hail storms, FMH has policyholders covered with our trusted products such as Crop Hail and add-ons such as Green Snap and Green Snap Extra. FMH also has the financial strength to take care of a surge in claims. During times like these, producers can rest assured that the financial stability of FMH is ready to deliver.
Crop fields weren't the only areas to see significant damage. FMH's Property & Casualty division has been hard at work taking care of hail-related damage to vehicles and homes.
From our Crop products to our P&C products, FMH has ways to cover policyholders across the board.